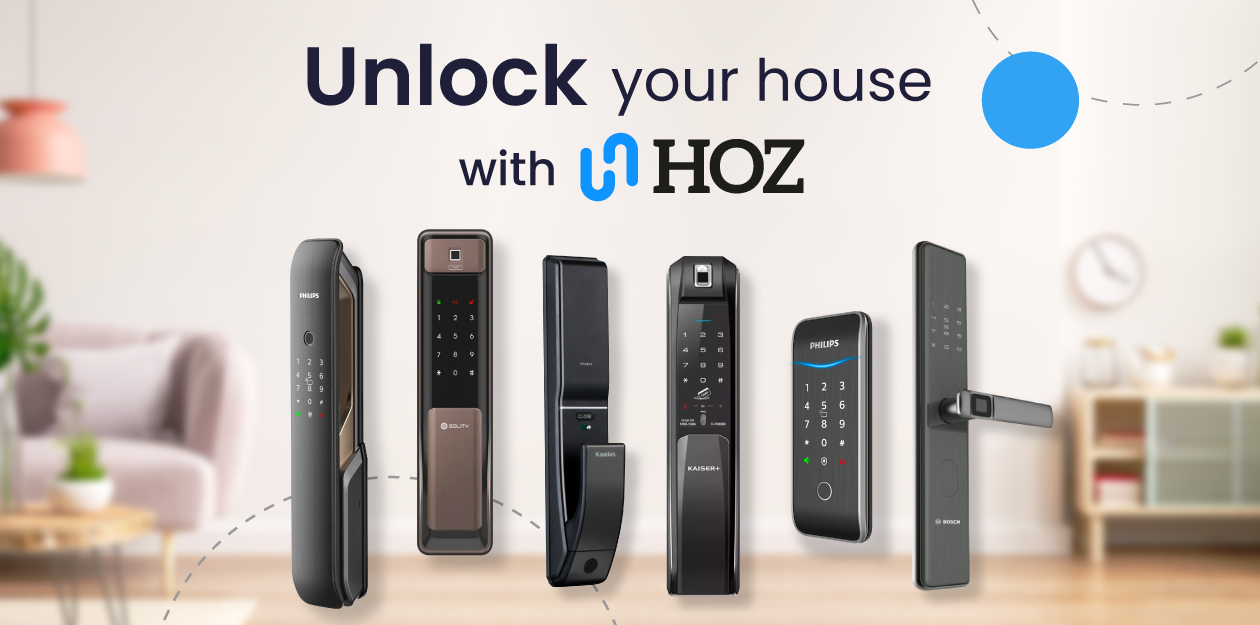 4 Tips To Help Your Digital Door Lock Last Longer
July 25, 2022
When it comes to home security, digital door locks are becoming an increasingly popular option, and for a good reason - they offer a number of advantages over traditional keyed locks. 
At HOZ, we have been providing high-quality installation of digital door locks for HDB flats and other homes in Singapore for many years, and one of the most common questions we get from our clients is how to maintain and look after their locks. 
The answer depends on several factors, including the quality of the lock, usage frequency, and environment. 
Generally speaking, a high-quality digital door lock should last for several years with normal use. In fact, many digital door locks come with warranties that cover defects for up to five years. 
In this blog post, we'll share a few tips on how you can help your digital door lock last longer.
1. Buy From An Established Brand And Shop
When looking for a new lock, buying from a leading retailer that offers locks from many reputable brands is important. You really don't want to compromise the safety of your home! 
You know you're getting a quality product when buying from a well-known brand. Brands like Philips and Hafele have been around for a while, building up a reputation for selling quality digital door locks. When you buy from one of these brands, you can be confident that you're getting a well-made product that will last.
All products undergo safety testing before they hit the market, but some brands with a good reputation go above and beyond to make sure their products are safe for consumers. In addition, buying from an established shop ensures that you'll get stellar customer service if you have any problems with your purchase.
Browse our extensive range of top-of-the-line digital door locks from award-winning brands trusted for decades. 
2. Clean Your Lock Regularly
Over time, dirt, dust and other debris can build up on the surface of your digital door lock. This can cause difficulties in scanning your fingerprint, pin code or RFID card, leaving you stranded outside your home or office. You can also maintain optimal function and give yourself peace of mind by routinely wiping down your lock with a mild soap and water mixture.
3. Select The Right Cleaning Products
Not all cleaning solutions are created equal! Check with your digital lock shop or manufacturer to ensure you use the appropriate cleaning solutions. The wrong cleaning solution could cause your lock to malfunction. Not what you want when you're tired after a long day and trying to get into your home! 
4. Keep It Away From Children
Some digital door locks might have flashy lights and beeps, which can be very interesting for young children. Letting a kid play with a technologically sensitive piece of equipment is probably not a good idea, so keep the curious little hands away from your digital door lock. 
Find Lasting Locks For Your Home With Hoz
At HOZ, we have been supplying digital door locks to homes in Singapore for many years and have extensive experience in helping customers find lasting locks for their homes. With us handling the installation, you can have peace of mind that your lock will continue functioning well for years to come. Contact us for enquiries and chat with our expert team about how we can enhance the security of your home today. Alternatively, read our blog for more information about digital door locks now.
UEN: 201907826W
GST No. 201907826W
Hoz Operating Hours
11am - 8pm Daily (Including Public Holiday)
Accepted Payment Methods
Copyright © 2023
UEN: 201907826W
GST No. 201907826W
Hoz Operating Hours
11am - 8pm Daily (Including
Public Holiday)
Copyright © 2023