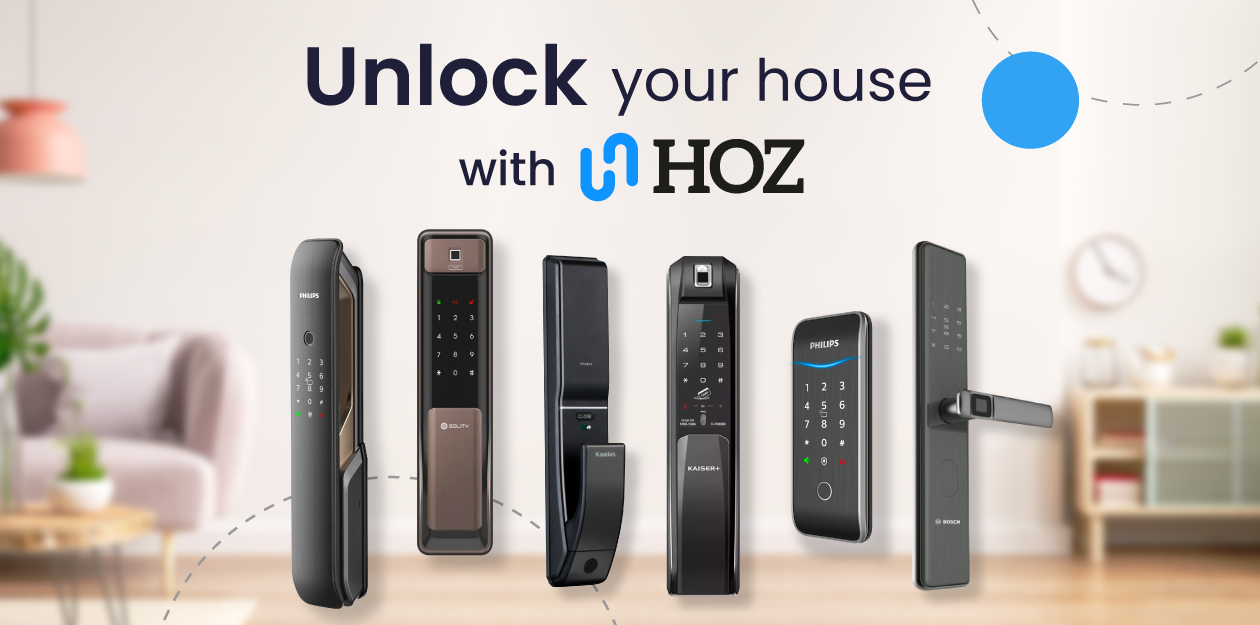 What Are The Best Digital Door Locks With Levers For My HDB Flat?
September 12, 2022
A digital door lock is the perfect way to add an extra layer of security to your HDB flat in Singapore without compromising on convenience. With the multiple access methods that a digital door lock offers, like fingerprint, PIN code and RFID card, you'll have a way to get in your home even if you lose your card or forget your code. 
Many of the digital door locks in Singapore open with a gentle push or pull, but if you are more inclined toward the traditional way of opening a door by turning a handle, there are plenty of digital door locks that feature levers that will give you the same feel as a handle. 
In this blog post by Hoz, we use our expertise as a leading digital lock provider locally to share with you some of our bestselling HDB digital locks that feature levers, for those of you that prefer the look and feel of a traditional door handle. 
1. Kaiser Lever Mini
Simple, elegant, and affordable, the Kaiser Lever Mini allows access through PIN codes, RFID cards, and a mechanical key as a backup. In addition, remote control and Wi-Fi access are optional upgrades. 
As a safety feature, the door automatically unlocks when the temperature is over 65 degrees Celsius, allowing access in the event of an emergency such as a fire. The Kaiser Lever Mini is a simple, no-frills digital door lock that will make an excellent choice for those buying their first door lock in Singapore.
2. Igloohome IGM3 Smart Mortise 2
Sleek and stylish, the Igloohome IGM3 Smart Mortise 2 digital door lock unlocks with PIN codes, RFID tags, and Bluetooth technology. You can use your smartphone to grant access anywhere, anytime by sending your guest a temporary, time-sensitive PIN code. This nifty feature is great for allowing access during a limited time, such as when a contractor or helper is coming over.
You can grant access to your home when you're out, at the office, or even overseas. Simply set the duration of the PIN code and Bluetooth keys which will then expire when they leave, keeping your home secure.
3.  Hafele Digital Lock DL7600
In addition to the RFID and PIN code access, the Hafale DL7600 Digital Lock allows fingerprint access. With an elegant and minimalistic design, this mortise lock will replace your current door handle.
This fingerprint digital door lock is one of the most versatile and user-friendly locks on the market. The keypad also has a built-in fingerprint reader that can store up to 100 fingerprints, making it ideal for HDB homeowners that want to grant access to extended family members or friends.
The private mode is activated from the inside, adding an extra layer of security, and a combination of any two access methods should be used to unlock the door.
4. Bosch Digital Lock ID60
Another fingerprint digital door lock, the Bosch Digital Lock ID60 allows fingerprint, PIN code, and RFID card, in addition to the additional Wi-Fi access which is an optional upgrade.
The Bosch Digital Lock ID60 is a great choice for anyone looking for a reliable and secure way to lock their doors. The digital keypad makes it easy to set and change codes, and the built-in alarm system will notify you if someone tries to tamper with the lock.
5. Samsung Digital Lock SHP-DH537
The Samsung Digital Lock SHP-DH537 allows access through PIN code and RFID card, while Wi-Fi is an optional upgrade. You'll need a combination of the two modes (card and PIN) to unlock the door.
This digital door lock has a built-in safety feature that unlocks the door and sounds an alarm when the temperature is about 70 degrees Celcius, allowing access during emergencies.
Get The Best Digital Door Locks With Hoz
If you are looking for digital door locks with levers in Singapore, give us a call to have a chat on how we can help enhance your home security.