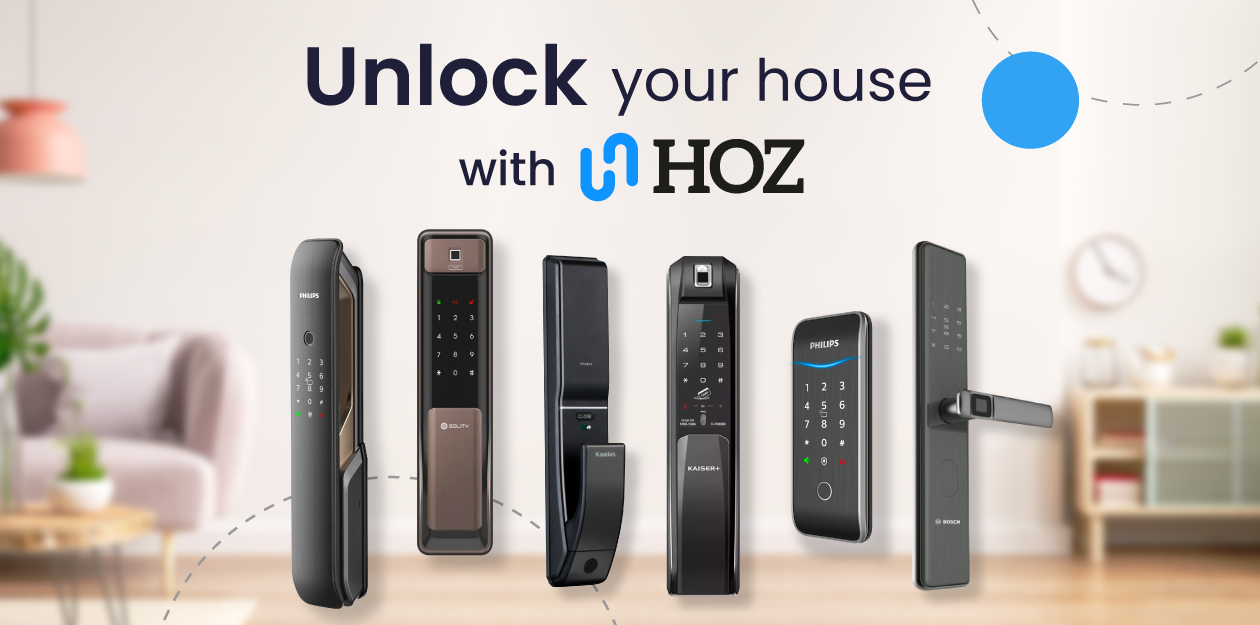 Who Should Buy Digital Door Locks For Their Homes?
May 13, 2022
Do you tend to forget your keys often? Do you find yourself fumbling through your pockets or purse trying to find that missing key ring? If so, then you may want to consider investing in a digital door lock. They are a great way to make your life easier and increase the security of your home, rapidly gaining in popularity with homeowners. In this blog post, HOZ will discuss the benefits of owning a digital door lock and who should buy one.
1. The Technology-Savvy
The technology-savvy individual is always on the move. He lives in a fast-paced society with his family, which is why he's seeking convenience for his home. A digital door lock is ideal for someone like him as he does not need to waste even a second worrying about where his keys are or search for his keys. Harnessing the power of technology, he can save time and hassle by using a passcode, fingerprint or a fob to easily gain access to his home. 
Additionally, the technology-savvy are also drawn to digital door locks due to their ability to be integrated with a smart home. Smart homes are houses which are integrated with devices that can allow users to manage various functions of your home via an internet connection system, even if they are not physically present.
2. The Aesthetic Homeowner
For the aesthetic homeowner, style is your calling card and a traditional lock is a tad too simple for your liking. Digital door locks are stylish, aesthetically pleasing and can even raise the value of your home. Snazzy, well-built digital locks look great on a HDB gate, more so than a rusty, old-fashioned lock.
When you are hosting guests, digital door locks can add a stylish, modern flavour to the aesthetic of your home. If you are someone who wants to bring a modern look to your home, hop on the home automation trend and get a digital door lock for your HDB flat!
3. The Security Seekers
Your home is your safe haven and you'll want to feel safe. People who are concerned about their overall security should definitely invest in digital door locks. Homes that have standard, non-digital locks are very easy to break into.
Digital door locks provide more security than standard locks because they are more difficult to pick or break into. Their modes of access, including fingerprint, RFID card, pin code and bluetooth app access ensures a robust security system. Security is enhanced as certain digital door locks can be programmed to necessitate the use of two input methods before access is granted. Additionally, they have in-built alarm systems that will be triggered in cases of forced entry.
4. The Hassle-Free Owner 
Always losing your keys or rummaging in your bag for them? Or have your hands full after a trip to the supermarket and find it a hassle trying to find your keys?
With a digital door lock, all it takes is a quick swipe of the keypad or a fingerprint scan and you're in your home! Modern digital locks are extremely easy to use. They can be opened by using personalised codes, which makes them excellent for households that have children who always seem to end up locking themselves out of the house.
The use of RFID cards, fingerprints, or PIN codes, which can be assigned to different family members and friends, makes digital door locks really beneficial for households with more than one person living in the property. Say goodbye to the frustration of having to rush home to let your friends or family members in! 
Digital Door Locks For Every Need & Everyone 
Whether you are a tech-savvy whiz or someone simply looking to make life easier for you and your family, digital door locks can help. With an extensive range of locks that can suit all budgets, homes and needs, there will be something for everyone. 
We at HOZ have been helping Singaporeans install digital door locks for decades. Browse our range of door locks or drop us a note and chat with us about installing a lock for your home!