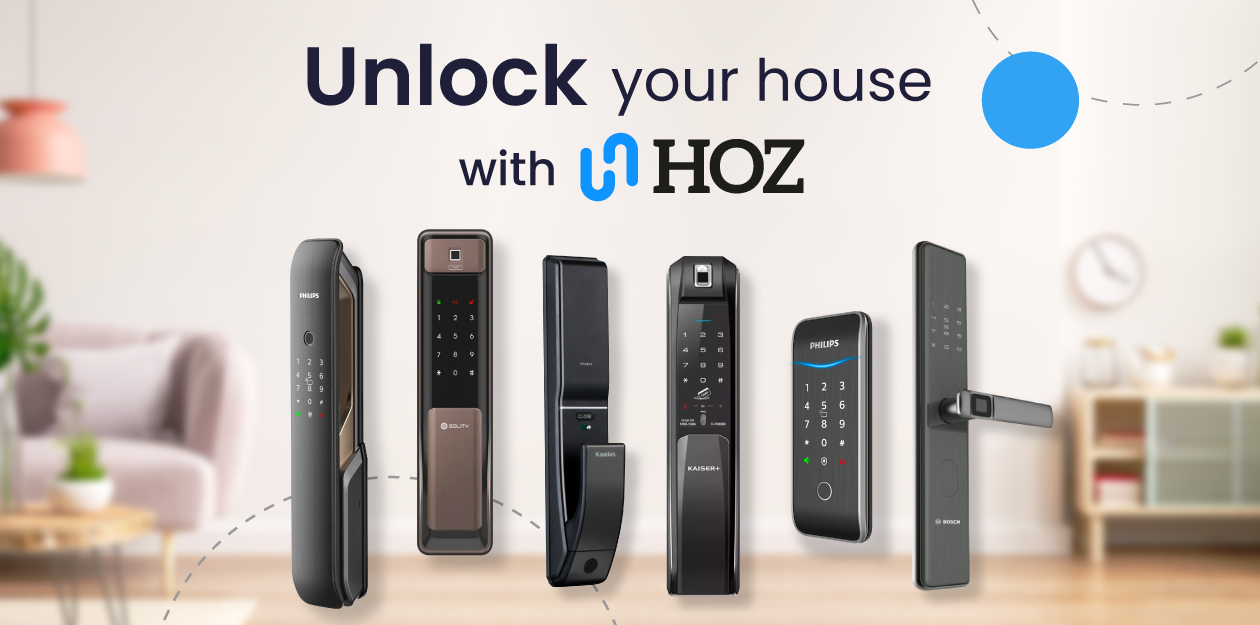 5 Interesting Facts About Smart Digital Door Locks
August 22, 2022
It is a widely known fact that one of the main purposes of smart digital locks is to boost the security of your home. Efficiently ridding homeowners of the fear of losing their keys, the advent of smart lock technology has seen many searching high and low for the best digital lock to have installed in their abode. But beyond the top-notch security that it can provide, there is a range of reasons to explain the booming success of smart digital locks. From the rising demand for smart homes to advancement in technology that has led to the ability for remote control, the list is endless. But what if we told you that there is more than meets the eye? More than a mere device to have installed on your main door or gate, there are various interesting facts about digital door locks that just might pique your interest in this highly popular and innovative alternative to the traditional lock-and-key system that we've grown accustomed to. 
1. Allows Loved Ones into Your Home
Forget having your friends and family wait by the corridor while you're not home. Whether you need someone to urgently babysit or watch your home for a bit, smart digital locks have your back. Never worry about making spare keys, handing them out, and forgetting who has the physical keys to your home. While there is a range of electronic PIN door locks on the market, options like the Philips Digital Lock 702E allow you to remotely distribute one-time PIN codes at any time so you do not have to worry about your visitors or friends waiting by the door when you are not home. 
2. There's Always a Backup
Forgot your RFID card at home? Perhaps you are more concerned about safeguarding your real password? With smart digital locks, there is always a way! Almost all digital door locks available in Singapore come with more than one mode of access – so if you've left your key card behind, there's guaranteed to be another way to get into your home. The Philips Digital Lock 9300, for example, does not only come with multiple access modes including Fingerprint authentication, PIN Code, Wi-Fi, and Mechanical Key but also features the Fake PIN Code technology. This allows you to key in random number combinations to successfully grant access into your abode as long as there is a consecutive input of the real password. This digital door lock can also be connected to the wireless network for remote management. Can't open your door? Access it via your mobile phone and find your way in.
3. It Deters Crimes
While Singapore indeed has one of the lowest crime rates, it is better to be safe than sorry. Investing in a security alarm system may go a long way in deterring crime, but there are digital door locks that combine the best of both worlds. With in-built security alarms, the Samsung Digital Lock SHP-DH537 will set off an alarm immediately when any foul play is detected. After just five failed entry attempts the lock will be disabled for a few minutes, preventing further attempts to authenticate entry. But that's not all! Should there be any forced entry thereafter, the alarm is sure to alert your neighbours.   
4. It Can be Configured to Your Needs
PIN Codes, Fingerprint authentication, RFID Cards, and more – the modern-day digital locks can be configured with an array of access modes to cater to your different lifestyles and needs. The Hafele Digital Lock PP88100, for example, has a double verification function to strengthen the security of your home by using 2 in 3 access ways. When combined with the Hafele Smart Lock app, you can further customise the function of the digital lock. Samsung digital locks that are compatible with the SmartThings automation platform take things up a notch by making the experience more personal and connected. Check the front door with a Ring doorbell or grant access to your visitors via the SmartThings app, the freedom to get creative with your smart home and the device is boundless.
5. Boasts Security Features for When You Are In & Out
Whether you are at home or not, smart locks can prevent unexpected unlocking attempts from outside and inside with ease. The Philips Digital Lock 6100 is a push pull smart door lock that employs full automatic mortise. This means that you never have to worry about whether your door is completely locked after you close the door. With a deadbolt that spontaneously pops, you can rest assured that the door is closed behind you. Should the door remain unlocked, there will be an alarm to remind you of the door lock status. You can even enable the safe handle function before leaving home to prevent any form of unlocking from indoors. Other smart digital locks like the Hafele Digital Lock PP9000 and Samsung Digital Lock SHP-DH538 come with the Away Mode and Anti-Theft Mode respectively, both of which can be enabled when you leave your home to increase the levels of security.  
There's More to Come with Hoz
Boasting an unmatched number of features and functions that can never be rivalled against by the traditional lock-and-key, digital locks are slowly but surely becoming a must-have for every home in Singapore. Customisable to suit your lifestyle, efficiently increasing security levels, and boosting convenience unlike any other, what more could one ask for?
If you are looking to experience the smartness of digital door locks, you've come to the right place. At Hoz, we carry a wide range of digital door locks in Singapore. So, what are you waiting for? To get started, check out the extensive collection of smart digital locks and shop online with us today.