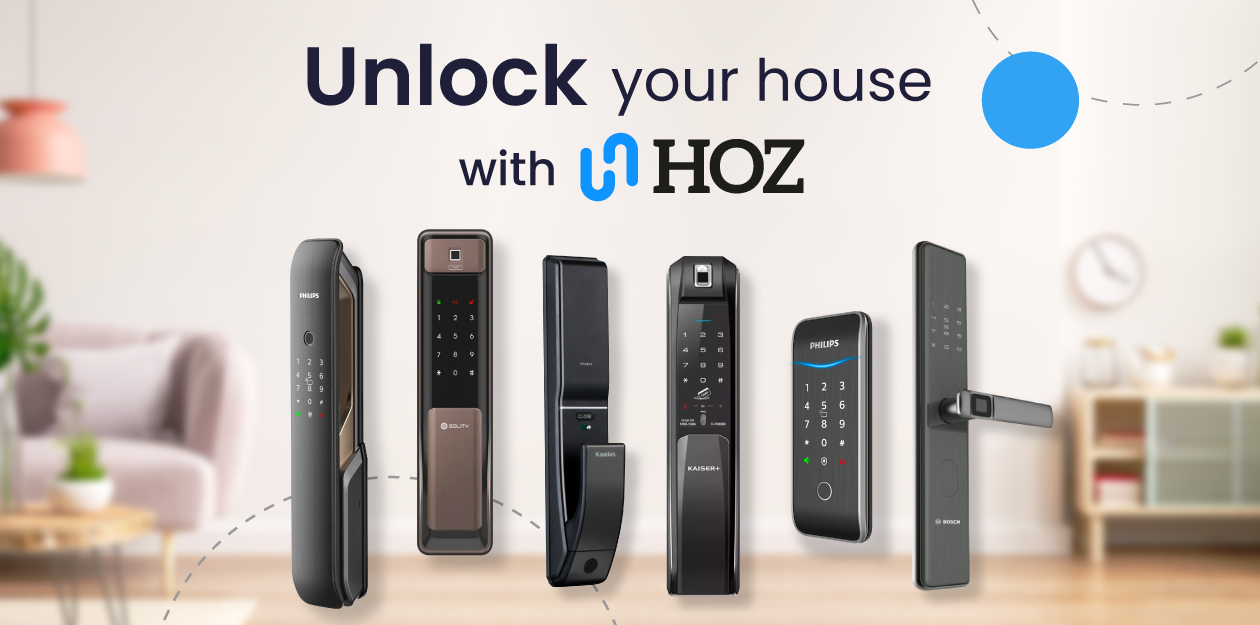 5 Outstanding Features of Kaiser+ Digital Locks
September 19, 2022
The convenience offered by smart digital locks triumphs over that offered by a typical lock-and-key mechanism. As the smart digital lock industry continues to boom, and more individuals rush to get their hands on the latest and best digital locks installed in their homes and offices, navigating through the range of digital lock brands then becomes part and parcel of the selection process. From Samsung digital locks to Philips digital locks, choices are aplenty. Of the range of smart lock brands to choose from, Kaiser+ digital locks are ones worth looking out for. Known to push out some of the best quality digital locks for homeowners all over the world, Kaiser+ digital locks can do everything from minimising the risk of unauthorised entry into your space to alarming you of any fires. Designed and developed for seamless installation on doors and metal gates commonly seen in Singaporean homes, here are the top 5 features of Kaiser+ digital locks that you might appreciate if you are on the lookout for a security solution from the brand. 
1. Options for Gates and Doors 
While it is a widely known fact that digital door locks allow you to go keyless, there are digital gate locks that are also enabled by high-tech features that allow you to enjoy extreme comfort with the security that they deliver. And with Kaiser+, you will not just find a wide range of door locks, but also gate locks. If you find features of the Kaiser+ Mortise Pro like fingerprint access within seconds, multiple access modes, and remote open for better convenience appealing, Kaiser+ has made it possible to experience those same features in their grill gate locks. The Kaiser Gate 1590, for example, does not only come with five access modes but can also be upgraded to be Wi-Fi and Bluetooth enabled so that you can open the gate from anywhere using Wi-Fi or your smartphone app. 
2. Multiple Access Modes
Releasing digital locks that are products of constant research and development, Kaiser+ has a range of digital locks that have several access modes. Be it fingerprint, PIN code, RFID card, remote control, Bluetooth, Wi-Fi, or mechanical key access, there are both Kaiser+ digital door and gate locks that allow you to open your door and gates quickly and accurately. The Kaiser+ Mortise Lite comes with three access modes – PIN code, RFID card, and mechanical key. However, homeowners have the option to upgrade the door lock to gain remote and Wi-Fi access. 
3. Fire Safety and Imaginary Number Feature
Access modes aside, other features of a digital lock can dramatically elevate the security and safety of your home. The Kaiser+ Gate 1590 and Kaiser+ Mortise Plus are both designed with fire sensors that activate when the temperature inside your home reaches a certain level and automatically open the lock while simultaneously sounding an alarm. To prevent prying eyes from deciphering your password, the Kaiser+ Mortise Plus digital door lock also comes with the Fake Password feature – press random numbers before keying in the real code, and you'll still be able to gain access to your home. Similarly, the Kaiser+ Gate 1590 has the imaginary number feature for optimal password protection. 
4. Emergency Key and Power
Left your key at home? Perhaps, you got a call that there was an accident at home but there is no way for you to gain entry? With Kaiser+ door locks like the Kaiser+ Lever Lite and Kaiser+ Lever Mini, in the case of an emergency, you can access the emergency metal key outside your house to open the lock. Did your digital lock run out of power? Fret not! While these digital door locks do have LED lights that indicate low battery levels, you can always use a 9V battery to provide emergency power too. 
5. Indoor and Outdoor Safe Mode
Whether you are at home all alone or plan on leaving your home for long periods at a time, Kaiser+ door locks have the Indoor Safe Mode and Outdoor Safe Mode features that you can activate to keep yourself and your home safe. When the former is activated, no one will be able to open the door even if they have the PIN code, registered fingerprint, or card key. The Outdoor Safe Mode, on the other hand, will activate a door alarm when someone tries to open the lock from inside, alerting your neighbours that there is an intruder – pair this with the invasion and breaking alarm that rings at a loud 80db when there is an abnormal force applied from the outside, and you can rest assured knowing that the Kaiser+ door lock acts as the perfect deterrent. 
Get Your Kaiser+ Digital Locks in Singapore at Hoz
Boasting an unmatched number of features, Kaiser+ digital locks are definitely worth considering if you are looking to install a digital door or gate lock in your home. Efficiently increasing security levels and boosting convenience with its many functions, what more could one ask for? 
If you are looking to experience the magnificent features of the Kaiser+ digital locks, you've come to the right place. At Hoz, we carry a wide range of Kaiser+ digital door locks and more in Singapore. So, what are you waiting for? To get started, check out our extensive collection of digital locks and shop online with us today.