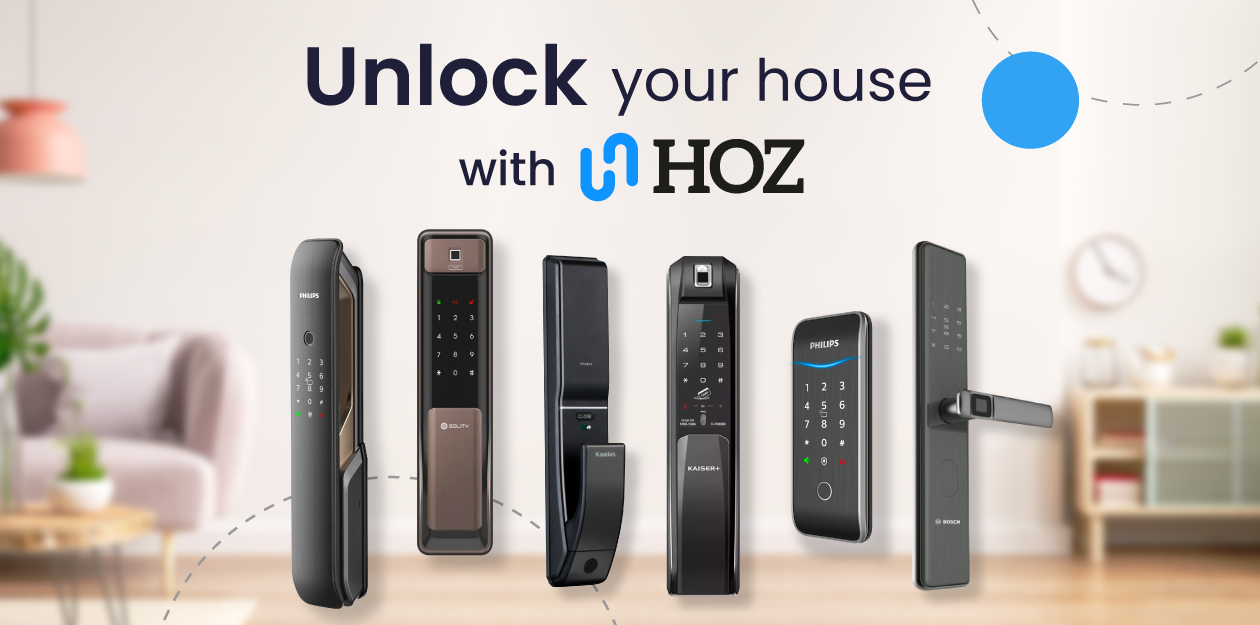 What to Consider from Philips' Range of Digital Locks
July 25, 2022
Smart home tech has steadily become a reality with the rise in remote operating convenience and energy-efficient systems. Digital locks are the logical next step – they provide security and convenience, and are also a stylish addition to your home. These come in a wide variety, from biometric scanners to Bluetooth options, there are numerous methods for keyless, electronic locks. Philips, an established technology company focused on improving lives in many fields, from health to home care, offers a range of these different types; here are some of the best digital locks at Hoz Singapore!
With the options for the fingerprint, PIN code, card and mechanical key access modes, this model is designed especially for convenience and with a futuristic aesthetic, combining elegant form and practical function. This digital lock includes push pull technology and also functions as a doorknob, integrating the intuitive fingerprint feature with the mechanism of the doorknob to allow smooth unlocking and entry in a single motion. As an external forced lock, it eliminates most security risks, keeping you and your loved ones safe and sound. 
Already happy with your doorknob but still looking for a modern, secure method of locking your gate? This Philips digital gate lock is the one for you. It has a slim compact design that is modern and sleek to suit the latest styles, and boasts 6 different access options; the biometric fingerprint scanner, PIN code, Bluetooth gateway, access card, mechanical key and remote controller. This model also has a silent operation function -- no more worrying about waking your loved ones with beeps and whistles when you open the gate at night.
Not a fan of the push pull model? Never fear, as Philips has a variety to suit a range of tastes. The Philip Easykey 7300, designed and built with durability, has a dependable lock with a lever mechanism, anti-collision and anti-sawing technologies to double as a lock and a doorknob. Its sleek, classy design will fit right in with any door style and decor. This model features the following access options; fingerprint scanner, PIN code, access key card, and a mechanical key. This extra feature of the mechanical key always has a backup, ensuring security and safety. 
Here at Hoz, we also offer bundles of gate and door locks for your ease and convenience. One of our best deals around, our Philips 9300 and 5100K bundle comes with both a gate and a door lock, which boast 6 modes of access, including PIN codes, biometric fingerprint scanners, and even Bluetooth. With amazing features such as PIN Randomizers and anti-prying alarms, this bundle of digital locks will meet all your security needs. 
Still unsure what lock fits your needs? At Hoz, we have a wide range of models from Philips for both gates and doors to suit your needs and tastes. Browse our online collection of Philips digital locks here, or come and visit us at our showroom at the Atrix Building to see and test these models for yourself. Hoz is an authorised reseller of smart locks in Singapore with free, next-day installation. With low prices and affordable bundles, we provide 24/7 tech support for our extensive range of digital locks. Shop at Hoz now!
UEN: 201907826W
GST No. 201907826W
Hoz Operating Hours
11am - 8pm Daily (Including Public Holiday)
Accepted Payment Methods
Copyright © 2023
UEN: 201907826W
GST No. 201907826W
Hoz Operating Hours
11am - 8pm Daily (Including
Public Holiday)
Copyright © 2023